Terps Army was one of the top cannabis clubs in Barcelona. Located just a few steps from La Rambla, it's situated in a super convenient location for getting high and then going sightseeing. The club is also a few meters away from the beach and Barceloneta. If you have ever visited this Terps Army cannabis club, for sure you've had a good time. Unfortunately, the Terps Army is closed now. But you can join any of this Top cannabis club available today!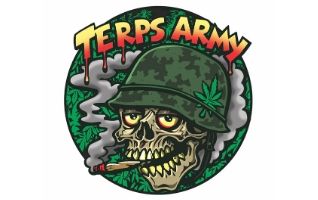 However, if you are looking for a superior cannabis club experience, we recommend you to visit any of the clubs on the list of cannabis Barcelona. They all share the same quality standards as Terps Army, check out the following clubs. 
Terps Army is well known for its Italian chilled vibe. The majority of the members of Terps Army were young adults. The club was always full of happy faces smoking and laughing together. At Terps Army, you could find big and spacious couches and tables in addition to a pool table and a very nice bar where you can get sodas, teas, milkshakes, and also a lot of munchies, like waffles, crepes, cakes and more. 
Regarding the dispensary, Terps Army had a very complete menu. They used to offer many different strains including Stivas, Indicas, and Hybrids from Spain and from USA. At Terps Army, one was able to find some of the best special seasonal strains, not available in other clubs. Also, all forms of extracts, like ice-o-lator, bho, wax, resin, rosin, shatter, etc. were also available.  
At Terps Army cannabis club you could also find everything you can imagine to smoke, like basic paraphernalia (papers of all sizes, tips, grinders, lighters, trays), all types and sizes of bongs and extract smoking tools, and even a Vulcano machine.
Terps Army was one of the few cannabis clubs of Barcelona that was put together with so much style and hype. There's no way someone could walk into Terps Army and not feel the chilled and comfortable vibe in there. Although it isn't the cheapest place to enjoy Barcelona's weed, it's stylish and comfortable, and that means a lot!
As mentioned before, Terps Army cannabis club is closed at the moment, so we recommend you to join any of the following top cannabis clubs in Barcelona. You will be impressed by the high quality of this cannabis clubs in Barcelona.